I am not sure how long this deal will last, but in honor of Nicole Williams new novel CLASH releasing, she has the first book in the series CRASH on sale for $0.99!! So go buy it for that price while you still can.
Taken from Goodreads:
Southpointe High is the last place Lucy wanted to wind up her senior year of school. Right up until she stumbles into Jude Ryder, a guy whose name has become its own verb, and synonymous with trouble. He's got a rap sheet that runs longer than a senior thesis, has had his name sighed, shouted, and cursed by more women than Lucy dares to ask, and lives at the local boys home where disturbed seems to be the status quo for the residents. Lucy had a stable at best, quirky at worst, upbringing. She lives for wearing the satin down on her ballet shoes, has her sights set on Juilliard, and has been careful to keep trouble out of her life. Up until now.
Jude's everything she needs to stay away from if she wants to separate her past from her future. Staying away, she's about to find out, is the only thing she's incapable of.
For Lucy Larson and Jude Ryder, love's about to become the thing that tears them apart.
I have been wanting to try this book since I heard about it over the summer. And when I heard of this special price for it, I new I had to pick it up. I am interested in it because it sounds like a cool angst/emotional book. If you like books similar to the angst and intensity of Beautiful Disaster then you should give this one a read. At 0.99 cents how could you let this deal pass you by???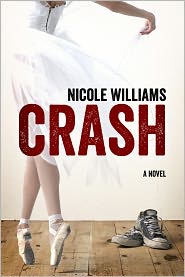 @BARNES & NOBLE