"He is rich and famous, and dark in ways I shouldn't find intriguing, but I do. I so do. I don't understand why his dark side appeals to me, but the attraction between us is rich with velvety promises of satisfaction. Chris is dark, and so are his desires, but I cannot turn away. He is damaged beneath his confident good looks and need for control, and in some way, I feel he needs me. I need him."
Even though If I Were You was released a little over a week ago, it is already catching a lot attention. That quote above had me wanting more right away. And I could not wait to get my hands on this book.


Sara McMillan is a high school English teacher on a summer break. Her friend Ella
has been buying storage units to sell the items inside for profit. During one of these times, her friend comes across journals belonging to a Rebecca Mason, the person whose items where in the storage unit. In the journal they discover the dark and erotic life Rebecca was leading. With her friend eloping suddenly, she leaves the key and its contents with Sara. Instead of just selling of the items and being done with it, she decides to go through the unit and see if she can find any information to track Rebecca down and give her back her things. She is afraid something bad has happened to Rebecca or so she tells herself.
Up until this point, Sara's life might have been good, but she was bored with everything. She wasn't feeling fulfilled with just being an English Teacher. Her true passion is art. And the fact that Rebecca was an artist, works at a very well know art museum in San Francisco, and lives this seductive and appealing lifestyle, Sara wants to be a part of it somehow. I
think Sara wants a little adventure and passion to come into her life to reawaken her senses. Similar to the things Rebecca wrote of in her journal. Sara becomes obsessed with Rebecca and it makes me think, how far will her obsession take her? Inserting herself further into Rebecca's life, Sara ends up with Rebecca's job at Allure Art Gallery for the summer. This is where she meets Mark Compton, the owner of the gallery and Chris Merit, a famous artist, whose work is on display there. Chris and Sara hit it off pretty much instantly, which lead them down an exciting and unexpected road…
"I climb onto his lap and he shifts to sit with his back against the couch. Boldly, I straddle him, my hands on his shoulders. "I'm here now. What are you going to do with me?" For several seconds he sits there. He doesn't touch me. Tension radiates off of him, seeps into me. He doesn't react and I begin to feel self-conscious for the first time all night. Suddenly, the fingers of one of his hands curl around my neck and he pulls my mouth near his. "Do you know what happens when you push a Dragon? They burn you alive, baby. You're playing with fire." My fingers curl on his cheek and all self-consciousness is gone, forgotten.
"I'm not afraid of whatever you're talking about. I think you keep warning me away because you're the one who's afraid." His fingers knot in my hair and I gasp at the unexpected bite of his grip, holding me steady. "Is that all you got?" I demand, shocked at how much I want more. How much I want whatever is beneath his surface. I'm not scared. I'm aroused. I'm ready. His eyes probe mine, his expression hard, intense. "I thought you were a good little school teacher."
"You're corrupting me," I declare, "and I seem to like it." I barely issue the challenge before he's pulling my mouth to his, and he is kissing me with unrestrained, burning passion. I taste the part of him I want to know, the part he's afraid of, and I burn to know more. Maybe he's right. Maybe I am playing with fire, but I cannot stop myself. Beyond reason, I will push him until he reveals everything."
Their chemistry is electric. The draw these two feel for each other can be felt through the pages. They each struggle with their own personal issues as they try and navigate this new romance of theirs that is both intoxicating and a little unhealthy. And it is not easy. Chris is telling her that there are dark and messed up people who will end up using her to the point where she will not recognize herself in the end. He goes even further by stating he is the worst of them all and she needs to stay away from him, yet ironically he finds he cannot stay away her and vice versa. He feels drawn to her…he feels the need to protect her and make sure she doesn't get manipulated by anyone.
If I Were You
is a deliciously sexy and fun read that will leave you wanting for more. There is an air of suspense throughout the whole novel and I love it. The book ends with a thrilling cliffhanger. When I reached the end, I was saying "No, it can't be! What happens next???" There are so many questions that I am dying to discover the answers to. I cannot wait until the second book
Being Me
is released. No official release date yet for the second book, but you can check out the author's website and get updates on her work by joining her mailing list.
http://www.lisareneejones.com/
**I received this ARC courtesy of NetGalley and the Author in exchange for an honest review**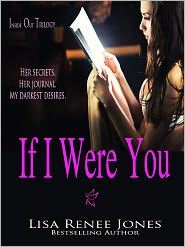 @ BARNES & NOBLE
@ KOBO