Once I saw the cover and read the synopsis of Wild Encounter, I just had to try it. The story starts off at a good pace, and I was immediately drawn into it.
Clare Delaney is determined and capable veterinarian who gets thrust into one of the worst situations you can be in while on a release mission in Africa. Hijacked by a group of smugglers while she is in the back of a convoy with a pack of sedated wild dogs, she begins to fear for not just her life, but for the dogs as well. She is taken hostage by the smugglers and it is then that she picks out who she believes to be the leader and names him Alpha. She tries to connect with Alpha in the hopes that once she develops some kind of rapport with him, he won't be so willing to kill her. She is desperate and is willing to attempt to even use seduction as a means of escape.
Alpha, whose actual name is Simon, sees through her plans to seduce and calls her on it. Even though he knows what she is trying to do, the more time they spend together the more there is an attraction that begins to develop with these two. But Simon has a job to do (which remains a mystery at first), and finding Clare in the back of that convoy put a big hole in his plan big time. Now is has to figure out a way to keep Clare safe and still do the job he has planned. Not an easy task.
Clare and Simon are not sure how much they can trust the other, and they struggle with that issue as they start to realize their feelings.
"This is not a good idea…"And what if it's not real? She clung to the nearest good reason not to take what she so desperately wanted. He tipped his head until his lips barely brushed hers. His knuckles scraped back her hair. "It wasn't a good idea last time, either, but you applied yourself admirably to the task." His breath tortured her lips with the lightest of caresses. "Tell me you don't feel the spark between us and I'll crawl out of here and never trouble you again."
-Nikki Logan, Wild Encounter
This story took place on the backdrop of Africa, which was described in good detail that I could easily imagine the African scenery and wildlife as I read along. One of the things I liked about this book is that it isn't a fluffy romance with tons of sex and a little bit of story added to it for good measure. Wild Encounter has an enthralling solid story line with enough suspense, romance, and surprises that will keep you glued to your seat throughout the whole book.
B&N: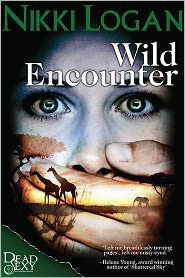 My Blog:
http://lifeasabookaddict.blogspot.com/